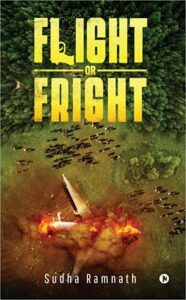 This is a book that I read almost a month ago, but somehow the review was kept pending.  Despite the gap, this book remains fresh in my mind.
Rephrasing the book's blurb, this story is about the survival drama when a routine flight from Mumbai to Delhi is hijacked and later crash lands in a remote, mountainous area.  The book takes the reader through their journey of survival with little food, hostile terrain, and battling injuries.
I am going to start with what I liked:
The introduction of various key characters in à la Agatha Christie within this 'survival drama' was beautifully etched and delineated.  I looked forward to meeting them as the journey continued.
I also liked the way each chapter ended with an observation. One such sentence that ended chapter 19 was,  Instead, had he been among the last to board, he would have noticed a few things and stopped the hijack. This is just one example of how the technique was so delightfully woven into the story.
The way the author extracted people's inner resources in their journey was also commendable. I also liked the various shades of human beings, the good, bad, and the ugly, brought out, particularly during the stressful journey.
A good deal of research went into this book, and I enjoyed reading about the place.
What could have been better:
More observations from the characters, which looked innocuous but later turned meaningful, would have made this book even more delightful.
Tighter editing would have benefitted this book tremendously.
Having said that, I was invested in the book throughout despite my inclination.
Rating  4 stars out of 5.