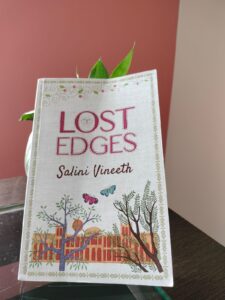 There is a general consensus that if a character or characters make you want to hug them or shake them till their teeth rattles or anything in-between, then the book is well-written or the movie well-made.
Salini Vineeth's  Lost Edges makes you relate to the protagonists the way you would your friend.  An exquisite cover can make you reach out for the book but to keep you reading, it needs the words of the author to weave you into the tale and this turned into one unputdownable.
A typical college romance where Geetanjali meets Ravi turns untypical when you have to deal with their respective baggage brought forth from their childhood. I wouldn't be spoiling the plot when I quote from the blurb that she is an ambitious contract negotiator and he is an unemployed engineer. How they got together is in itself a story.  But, having got together they now have to navigate their own insecurities, ambitions, and other mental health issues as they journey through life. Told in the voices of Ravi and Gethanjali, their journey begins in Goa on the campus of BITS, Goa and then it takes you to their lives in Bangalore. Bolpur in West Bengal,  Pondicherry, and Thalassery make a guest appearance.  A well-researched book on mental health, Salini related the insecurities to the place, where the incident had left its lasting impact, thus making the readers visit the place through the character's eyes.
Though the story spreads over quite a few places Goa with its beauty and places of interest and nostalgia is intricately woven with the story that it too becomes a character. Bangalore and its famed traffic too is not forgotten!
I did wonder what could Lost Edges mean but by the end of the story, I get to know how this facet of painting where the colours blend is one important skill in painting and this part is intricately woven into the story adding to my education.
If I have any nits- I would say three 'as usuals' in as many pages in the first chapter made me feel it was one too many.
A little tighter editing in chapter three would have ironed out the narrative change in a couple of places.
Having said that it did not deter me from enjoying the book thoroughly.  I would be picking up this book for a re-read when the story is not too fresh in my mind. It deserves one.