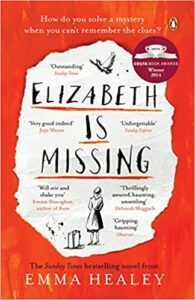 This was in my 'To Read List'  for close to two years.   And when I got down to it, I couldn't put it down.
The blurb in the book  says:
'Elizabeth is missing', reads the note in Maud's pocket in her own handwriting.
Lately, Maud's been getting forgetful. She keeps buying peach slices when she has a cupboard full, forgets to drink the cups of tea she's made and writes notes to remind herself of things. But Maud is determined to discover what has happened to her friend, Elizabeth, and what it has to do with the unsolved disappearance of her sister Sukey, years back, just after the war.
A fast-paced mystery with a wonderful leading character: Maud will make you laugh and cry, but she certainly won't be forgotten.
The book does go back and forth with Maud struggling to make some sense of her chaotic, demented memory. Yet, the author has not made the book a sob-fest. You do tear up a bit particularly when Maud gets talking to a woman from Cotsland Care home.  She says, " After a while in there you lose yourself."
And when Maud  thinks to herself that Helen ( her daughter) is always busy, always cross and always in a rush- well,  she speaks the words of most mothers.
The mother – daughter  relationship is something to write home about. Maud feels Helen sighs a lot. Helen on her part is always there for her mother despite the obvious difficulty of taking care of her. At one point, she becomes impatient and starts yelling at her mother while talking about her brother Joe, "He flies in from Germany once a year and flies out again and you think he is wonderful . But he is not here day after day arranging your appointment and talking to carers, checking your cupboards, and taking you shopping and buying you underwear every time you lose yours and picking you from police station at two in the morning." You can sense her helplessness and frustration at taking care of her mother who is clearly not there.
At one point, Maud forgets her own daughter, sits with her not knowing who she is and suddenly her brain clears and she remembers her daughter.  The poignancy of packing up Maud's things from the familiar surroundings, she is accustomed to   to make home with Helen will remain with the reader.
Reading from the perspective of a woman who is losing her mind steadily, I felt Maud put it succinctly, "The questions have lost its definiteness tangled amongst the cobwebs in my head."
I wish I had not waited this long to read this one.  Despite, the evident pathos, I was left with a smile when  Maud looks at her granddaughter, Katy and says, " Is she my daughter?" to which the latter answers cheerfully, " You are   too old to be my mother, grandma!"
Maud thinks to herself, Why is the girl lying and says, " The girl is quite mad. She will say I am hundred next!"
She knows she has to do something as no one will believe her but she knows she must do something because Elizabeth is missing!