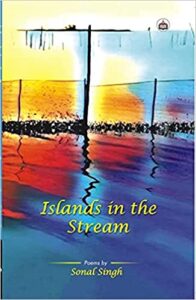 A collection of poems that make one's heart sing and think
Sonal's debut Poetry collection ranges from sheer ecstasy to poignant bliss. There are two sections to the book – Nature's Rhapsody and Life's Foibles
If the poem 'Languid Morning' made me stretch in bliss 'Dusk's Promiscuity' would have made me blush if I were any younger! The poems were sheer poetry, pun intended.
'What are days like,' was so tranquil.
Each of her poems was full of romance like in 'The Glade 'or deeply thoughtful like in 'An Ode to Time.' The lines therein:
Who created me?
Who created you?
Are you of me or am I of you?
were mesmerizing.
'If the sunflowers' was a sight to behold; her words made you dance in 'The Rain'
The second section dealt with, well, life! Aptly named: Life's Foibles, she writes 'Such is the beauty when hope and joy confluence. Happiness transcends, a rosy glow permeates, life holds a deeper meaning.'
I found it so profound.
'Stardust of Dreams,' was poignant, and 'When I am Gone,' was both touching yet hopeful. The last stanza summed up the poem beautifully.
In ' When My Heart Keens,' she talks about gathering herself like a bundle of sticks and concludes to heal again, feel again, bit by bit.
'Your Letter' was so lovingly penned.
If I have to pick a nit, it is this: The poem, 'Peace for Me' was unnecessarily verbose. On the other hand, 'Freedom,' reached out to embrace you with its simplicity.
'The threads of Memories,' was delightful, and 'Chords of pain,' remain with you long after.
I love my poems but not as much as to make them my afternoon reading! This held my interest throughout.