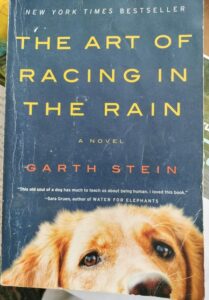 Another book from my rather long TBR was completed today.
I saw this movie some time ago. I remember crying then. I read the book in the last couple of days..I cried afresh. Not the deep, sad, hopeless tears of despair but the satisfying tears of hope, love, and belonging.
Told from the perspective of Enzo, the-is dog steals our hearts. This is a tale about love, responsibility, and some crazy manipulation yet, the faith in humanity triumphs.
Denny, Eve, Zoe, and Enzo are happy foursome, but then something has to happen to take the story forward, from sickness to custody battles, to some heartbreaks and triumphs.  The story takes us through some unforgettable, sad, satisfying, and downright poignant moments.
Having been a survivor, I completely related when Enzo observes a man who Denny meets on the school run. The man asks Denny if his wife is working to understand why she doesn't come to drop off their little daughter.
" No, she is recovering from brain cancer," Denny replies.
The man dipped his head sadly upon hearing the news.
After that day, he made himself busy talking to other people or checking his cell phone. We never spoke to him again.
Cancer, unfortunately, seems to make even the most voluble of the lot shut up as if it is catching!
At another point at a family gathering, Enzo tells himself:
I didn't like that whole line of reasoning. First that Eve was dying soon, and second that Zoe needed to spend time with people she had never met because Eve would soon leave. I wondered why they had waited for Eve's illness to make themselves available for companionship.
The above sentence beautifully encapsulates the whole human race.
Right from being there for the family at all times and understanding their needs, Enzo makes you wonder if you are insane not to be a pet parent.
I also have a long list of movies on racing that I must start watching because Enzo says so.