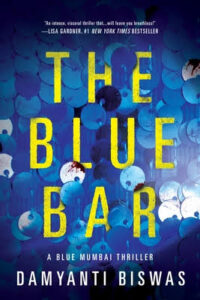 Genre:   a gritty crime thriller with an added intrigue of romance.
Certain books pick up speed, and then you can't just put them down.  It was the case with The Blue Bar by Damyanti Biswas.  I liked her first book, You Beneath my Skin, so much so that I readily accepted when she sent out feelers for all who would like to be an eARC.  And am I glad I did.
In this well-researched book, the life of Mumbai comes alive with a nexus among the Bollywood, the rich corporates, the underworld, the dancing girls at bars, and last but not least, the Police- the good, the ineffective, and the corrupt et al.  Even as the book rolls on in chapter one, the contrariness of Mumbai with its slums, the swelling crowd at the station, the high-rise, and the billboards of film celebrities is very well-portrayed, laying the foundation for what is to come.
Arnav Singh Rajput is the police inspector fighting his demons (like his missing girlfriend Tara Mondal and his sister Asha's untimely death), but that probably eggs him on to solve crime cases more so if it involves women.  When the police find a mutilated body of a young woman in Taneja Estate Holdings, a land under litigation, it sets the story rolling. As the story proceeds,  many more mutilated bodies are discovered, and a common thread of blue sequins runs through them.   Fighting the odds, he goes into the investigation, learning that some people, including a few in his own force, are against his investigation.   Braving a few shocking revelations and setbacks, he continues his investigation with the help of a few informers, his journalist friend, and a few select fellow policemen.  Who is that influential in stopping the investigation?  Who are the dead women? How is Tara involved in all these?  Would he get reconnected with Tara once again? Why did she disappear?  What did she have to hide? All the above and more is all that the story is about.   I like that there are plenty of women like his journalist friend, Nandini, and his lady-assistant, Naik, Tara's friend, Zoya, and Tara herself, who show far more gumption than some of the men around.
Though the beginning is a slow burn, it quickly turns into a page-turner, and you realize it is the kindle version of unputdownable books.   I found some of the Indian spellings vastly different from how it is generally pronounced, which gave me some pause in the beginning before the story took off.
I would give this book a 4 star out of 5. Thank you, Damyanti Biwas, NetGalley for the eARC.