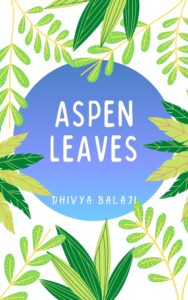 I have been reading many books by new writers on Kindle of late and  Aspen Leaves by Dhivya Balaji caught by fancy.  Each story preceded by a  a little something by way of describing the various shades of colours followed by a quote made this book even more unique.  It made for some enriching vocabulary.
In the story , The Note, a mother's final note addressed to the loving, misguided daughter by the unwanted, unwed mother was a painful read.
"If our marriage needs some third person to survive..be it your mother or our child, we have no meaning as a couple. " I loved the line in the story, The Dream. I wish more couples realize that pearl of wisdom.
In the story, Invited,  the  end left the reader strangely fulfilled and the words, "Life's answers came from the strangest places…" in the story Discretion made one pause and chew.
The author had divided the book into three: Drama, Supernatural and Revenge Thrillers. I gave a cursory read to the second as it happens to be my least favorite genre, yet I found The Clairvoyant engrossing. What makes the author's story so relatable are certain sentences weaved into her stories that has the readers connect with them immediately and make it relatable.  In this story, the character says while describing her visions, "it's like remembering the tune of the song without the words and that is not a pretty feeling if your life depends on getting the words right."
Revenge Thrillers was exciting particularly the story The Lake.  Scorned had an ending that was as sudden as unexpected.  The reader was left sad and helpless with the must tell-tale Predator and it happened to be my favourite.
You can read it on Amazon