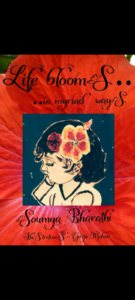 I chanced upon this book and felt that I was holding a bouquet of flowers. Though, I started at the beginning with the child making a sunflower in her crafts class and gifting it to her ajja ( grandfather) and enjoyed the bond between the grandfather and grand child; my vote went for a bouquet of roses.  We see so many children at signals but to weave a story of one such child turning into an athlete warmed the cockles of my heart.  It was a toss up between a bouquet of flowers and  wildflower the girl who breaks every norm, decides to perform the ultimate sacrifice for the nation.
Daffodils was a cute tale of finding your soulmate in an arranged set up and a string of Jasmine to save one such marriage. Kamaladevi left the reader nodding the head in satisfaction and Marigold blooms left one with a tight throat.
A quick read for the afternoon and a book that doesn't make you feel more wretched than you already feel with the pandemic around you.  Soumya first book left me deeply satisfied.  You can pick your copy at amazon.