This book took some time. I finished two tiny books in quick succession predominantly because of the difficulty of holding up  462 pages of the hard-bound book while lying down, which happens to be my favourite position to read!
I  haven't read the author's Rules of Civility, so this was my introduction to the author..and what an introduction! Exquisite language, subtle humour, and characters that live on long after you put down the book.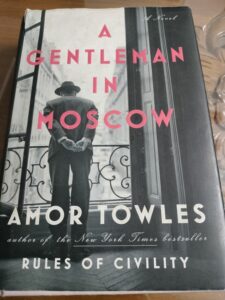 In 1922, the thirty-year-old count Alexander Rostov was sentenced to house arrest in the Metropol Hotel across the Kremlin. Rostov must now give up his regular suite and live in an attic room through some of the most tumultuous decades that Russia witnesses.
When fate suddenly puts the life of a young girl in his hands, he must draw on all his ingenuity and inner reserves to protect the future she so deserves.
The book takes us into their lives, and we get to eat, drink, meet people, and live their lives within the four walls of the Metropol hotel.
The language from Rostov's, " I have been known to fence with a quill"  to his very profound "No matter how the time passes, those we have loved never slip away from us entirely" either evoke a chuckle or a deep sigh.  When you encounter the beguiling Anna Urbanava in the company of the beguiled, you can't help laughing aloud.  And when we are privy to a debate on the differences between what was probable, plausible, or possible, you do take time to ponder.
Most people who step through the hotel are those raised in grand homes in cosmopolitan cities, educated in liberal arts, graced with idle hours, and exposed to the finest things. This observation is what makes the count and an American he befriends, born ten years and four thousand miles apart, find a lot of common ground than they have with the majority of their own countrymen.
That leads to another observation on why
the grand hotels in the world's capitals all look alike- be it the Plaza in New York, the Ritz in Paris, the Claridge's in London, Metropol in Moscow built within fifteen years of each other but they too were kindred spirits, the first hotels with central heating, international cuisine, and international newspaper.
 Besides the obvious observations,  there were a lot of learnings we gather from the life of the Count.  When he says, I have had a lot of conveniences, but in the end, it has been the inconvenience that mattered the most, it holds true for most of us. He also observes that he had to give up late-night drinking after he turned 60 because he found that they ( the drinks), 'like unsettled children, were likely to wake you up at three or four in the morning!'
As I end this review, I am left with something I read at the beginning of the book that was supposed to have been passed down by the Count's father, "If one did not master one's circumstances, one was bound to be mastered by them."
My rating 5/5
 If I have to summarise in one sentence, this exquisite socio-political commentary draws you in and keeps you drawn.