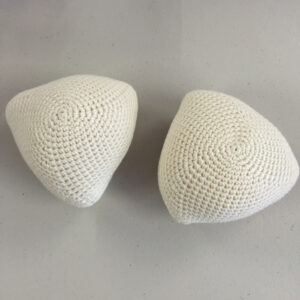 Anne felt the feather-light brush on the underside of her breast and looked up sharply. She sighed at his studiously cultivated look of innocence.
When Anne got onto the home-bound bus, she had quite forgotten the ordeal of her college-going days. Nothing much has changed in the intervening years, she muttered as she removed the crocheted knocker from under her dress and said loudly. 'Here! This will make your life easier.'
Horrified, he jumped off the running bus, while she in her colourful scarf covering her baldness, chuckled amidst appreciative cheers. She continued on her journey towards remission.
Image credit: https://www.beuplifted.org.au/product/free-crocheted-knockers-pattern/
Author's note: This 100 word story has to begin with a journey and end in one.