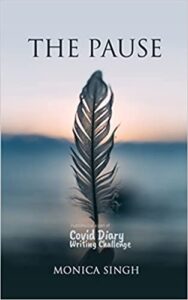 This book is a breezy read though there is nothing breezy about this collection of short stories.  It remains in our hearts far after the book is done.
What I liked: It was one quick and delightful read, and the seven stories in the collection vied with one another for being better than the previous one and the one that follows.
The language used in the book was lucid, and if there were any errors, then it was completely overlooked because of the way the stories were told.
They have very relatable characters, and each one of them was something that you might have come across or heard about.
I am going in the order that I liked best though I must say that I had a tough time selecting the one that goes on the top of the list:
One and half Minutes: This story about Kachra and Motar, which deals with the terrorist attack in Mumbai and just takes one and a half minutes to kill mindlessly, was my favourite for various reasons.  Needless to say, it was the last couple of sentences – His broom swept the shards of broken glass and debris from the ground. Tears poured down his cheeks, but his hands never stopped that tilted the scale for my vote.
My second choice was Thursday's Adventures. This story is about how Milli and her brother find refuge in books.
Milli's librarian stole my heart. I particularly liked the way he says, "Books are dangerous only to those who fear possibilities. Reading is good, Milli. Let no one tell you otherwise."
In The Other Man, two strangers come together at the most unlikely place, and what they say to each other changes what they feel about themselves and their future.
I selected this because I am a great one at talking to strangers and have always come out of that conversation stronger than before.
I now am placing the others in the order of appearance in the book.
A day in a Superhero's Life
Anshul suffers from ALS but takes a day at a time. What touched me at the end is his musing, Will I live to see another day? Mom will not let me go.
Phoenix Rising dealt with the oft-repeated story about domestic violence, and there ends the ordinariness. The story tells about the brave mother and how she decides to take things to set right the obvious wrong.  You root for Meera and keep rooting for her.
I am no cat-lover, but this heart-warming tale titled, Tangerine made me wonder if I should take on a cat as a pet. Will it choose me? That remains a question.  The cat not only chooses Shalini but helps her tackle her fears.
For people like Suvarna from the story Null and Void, who have lots of love to give, things don't work according to their plan. How do they help themselves?  This struck a chord due to my own personal demons and I can't help ruminating on this.
The author had sent a personalized note which said, Immense power to your pen!
May I return the honour, dear Monica?
The only nit I found was:
The indefinite article, 'a' was missing in the title of One and a Half minutes.