Big little lies by Liane Moriarty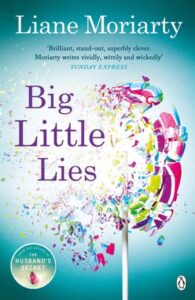 This is the first of Liane Moriarty, I am reading and I have decided to rectify that mistake! This book along with her other big-selling book,  Perfect Strangers has been adapted into a Mini serial.
The setting of 'Big Little Lies is at the Pirriwee public school and its surrounding beachfront town.  Told through the eyes of three mothers- Madeline, Celeste, and Jane, you come to know of the happenings in not only their own lives but also the life of other doting mothers.   The book begins with a costume party at the school.  Mrs. Ponder, an elderly woman, who stays overlooking the school sees one 'Elvis' Punching another and a wail of Siren on the Trivia Night.  You know of the accident but then you are taken into the story that begins six months prior to the trivia night.
You are taken into the lives of doting mothers, successful husbands, beautiful children, stunning homes, and the lives of the inhabitants of the town.  You are privy to their relationships – fractured or otherwise.
Madeline is a force to be reckoned with. She is passionate and is someone who her friends can rely on.  Celeste is a beautiful woman and a mother of twins and her life is 'near' perfect but she has her own demons to fight.  New to town, single mom Jane is a young mother with a mysterious past. She has had a lifetime of experiences in that short life.  These three women meet and root for one another and do not take injustice lying down.  Their lives along with others in the town culminate at the trivia night hosted at the school.
What made me root for the book is the dialogue at the end of each chapter that gives you an idea of what goes on behind the scenes.  As the various characters speak to you, you learn more about them and also about where the story is taking you.  I felt that was very cleverly done.