Tamil, 58, divorced, clean habits, fair, govt, well settled, seeks good looking bride. Caste, religion, language, no bar. Apply with photos.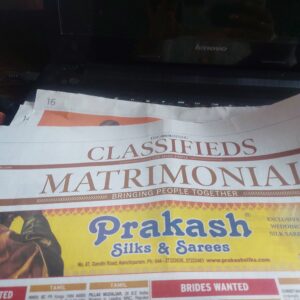 Indians, mainly *Tam- Bram* spoke the language of IIT and Cricket. Dinesh was studying at the premier Indian Institute of Technology, Madras, when he got an opportunity to represent India for two seasons in the game of cricket for under-19. It was only a matter of time before he started playing for the country.
Coming from the land of swarthy skin, his lighter skin tone on his six-foot frame combined with his swash-buckling style made girls from nine to ninety swoon. In a country where cricket is nothing short of religion, it was little wonder that he had a fan following the size of India's 'Eden Garden.' Such is the power of cricketers in India; he got an offer from Air India to be on the board. So, he drew a hefty salary without having to be at the office or attend a meeting.
He married Gertrude when he was just twenty-two after a whirlwind romance. He was so far removed from the reality that his parents, who had sacrificed much to help him rise in academics and cricket, came to know of his wedding through the newspaper. Dinesh's parents did what they knew best. They prayed and slunk away from relatives and neighbours.
Partying hard, the young man momentarily forgot that he was from a land of plenty as far as talent was concerned. Hence, he was relegated to being the twelfth man for two seasons, after which he could never make it back to the team. He had to be back on Indian soil with broken dreams and a broken marriage much poorer in more ways than one.
For Gertrude, the gorgeous was not too aware of India, and like most uninitiated, she believed that India was a land of snakes and elephants. She didn't dare travel to an unknown land with a man she knew less of.
Dinesh took time to lick his wounds but soon was happy being single, living with his parents in their apartment overlooking the beach in the re-named Chennai, which was his gift to them, and tried to take care of their needs. He became a coach in various cricket clubs besides working in Air India. He was the most eligible bachelor in the town, and though the parents tried their best to get him to settle down, they gave it up when he crossed his early thirties. They made peace that they would never be able to play with their grandson.
Life of casual relationships slowly waned, and his parent's demise brought emptiness and rendered him tetchy. He resorted to the age-old method of finding himself a partner, and what better than the faithful matrimonial column of The Hindu? Besides, IIT and cricket, 'The Hindu' was a go-to newspaper for Tamilians. So, is it any wonder that the following Sunday saw his requirement in print?
Did he find his soulmate? "Well, your guess is as good as mine."
( Word count: 487 without advertisement)
Image credit:
Photo by Yogendra Singh on Unsplash