Soumya Bharathi  book Tales from the Moonlit Hearts,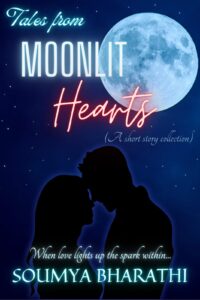 is one read that doesn't leave your heart in a trembling mass but a slow, tender, reassuring  thud and I tweak Robert Browning's Quote :
"Love's in the air— All's right in Soumya 's world!"
The short collection begins with Chasing Butterflies , which is a simple tale of attraction in an arranged marriage aided ably by Masala Chai. When chai is brewed in the kitchen, can love be far behind?
The second is based on Longing. A dancer is forced to find another outlet for her art.  Serendipity leads her to our hero and the rest lies in the able pen of our author who effortlessly takes us back and forth into their lives.
The third deals with Passion and the story is a quick burn..just ten pages of smolder.
The fourth is Moonlight diaries dealing with companionship and my favourite. Read and you will know why !
The next one dealing with comfort ..a tale played across a million little homes where comfort reigns supreme.
Oh, the folly of young people who believe they know themselves ! A piece of my Heart deals with  regret, where you kick the gift horse in the mouth . Well! Experience can never be underestimated.
And the last is based on  the theme eternity – a story that leaves you with unshed tears.
As I said, the pluses were the breezy, easy read. Nothing outlandish but something that could happen to anyone.
My nits:
A couple of stories moved between time frames like 23rd Sunday of the year, 1st Sunday of the year, 35th Sunday of the year or time frame like Morning 10 AM , Evening 6 PM which I found confusing. It didn't take away from the story but I did have to go back and forth . Blame it on my age!
Overall , an enjoyable read for a lazy, summer  afternoon.
My rating 4/5