Book review:  The Nature of Fragile Things – Susan Meissner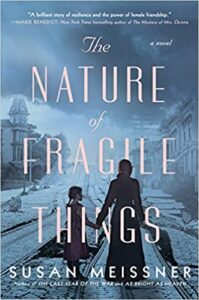 A young lady, Sophie Whalen comes to San Francisco by ship from New York to marry a stranger Martin Hocking who happens to be a widower and a father of a little silent girl, Kitty Kat. Handsome, reticent, but a provider Sophie is in want of nothing except maybe, affection, love, and his time.  Sophie an Irish Immigrant doesn't mind being a mail-order bride and devotes herself to caring for her little daughter who slowly starts to speak.  She home-schools the child and takes care of the home thinking that Martin's distance from her and his daughter is because of his inability to forget his first wife.
And then enters a heavily pregnant stranger. The two women find themselves caught in a relentless nightmare.  In the backdrop of San Francisco Earthquake and the resultant blaze that took hold of California in 1906, the three remarkable women's lives ( not to forget the little girl's life)  intertwine and there begins a journey of resilience, sisterhood, and humanity.
What makes the book remarkable besides the plot is the language.  Told in Sophie's voice, the imagery of the tectonic plates moving under the earth was so beautifully portrayed that you almost lived through the earthquake, the fires, and the resultant escape through myriad landscapes.
I listened to this book on audible and as I reached the end of the book, the quote by Browning came into my mind, "God is in his Heaven, all's right with the world."
My rating: 5 on 5 stars.